Hi, we're Layer Origin Nutrition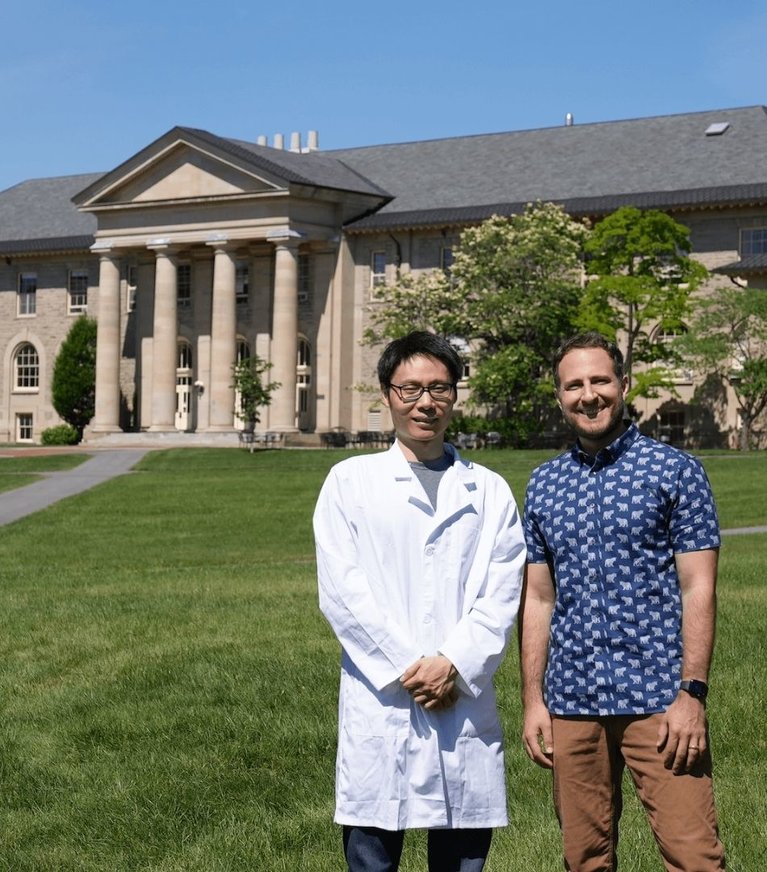 Layer Origin Nutrition was founded by scientists and is owned by scientists. We believe there are many layers to our health (physical, mental, external, internal) and that it all originates at the layer of the gut microbiome. Our origin story is simple: circa 2017 we observed the power of Human Milk Oligosaccharides as a prebiotic for the infant gut and realized there was a great need for safe, reliable, and pure HMO supplements. We spent the next three years researching and formulating our HMO prebiotic products, before launching LayerOrigin.com in early 2020.
Today we're proud to offer the world's largest line of HMO prebiotic supplements designed to target various layers of health from the origin point: the gut. We know that 70% of the immune system is housed in the gut so it's incredibly powerful. By modulating our gut bacteria via HMO prebiotics, we can better our digestion, immune health, cognitive function, and lose weight. It's a life-changing proposition.
Jason Zhang and Beau Berman
Co-Founders, Layer Origin Nutrition
At Layer Origin Nutrition, our HMO does not contain any human milk. Instead, it's produced via an enzymatic fermentation process and results in a powder that is bio-identical to the HMO in real human milk. Thankfully, it comes with all the same benefits of milk-based HMO.
Two food scientists met in a Cornell University laboratory in 2017 and realized they both had a passion for improving human health. After nailing the science, they partnered with a former Emmy-Award-Winning Journalist turned communications pro, to tell the Layer Origin Nutrition story. The company is now made up of a small team of scientists and staff from top institutions including Columbia University, Cornell University, University of Missouri, Auburn University, Penn State University, and University of North Carolina.
A full line of supplements featuring HMO, which is clinically proven to reduce IBS sypmtoms. The comprehensive line of Human Milk Oligosaccharide supplements includes variations for goals such as weight loss, skin health, and hydration. With multiple patent applications filed and proprietary methods, Layer Origin Nutrition is more than a supplement company. We are a technology company that specializes in processes for developing products that can optimize the human gut microbiome for enhanced health outcomes.
We began conducting research and establishing the company in 2017, before eventually launching sales in early 2020 (right as an unprecedented global pandemic was taking hold — great timing!). Our launch came only after multiple years of research and development, applying for patents, and obtaining trademarks. Despite the pandemic and other obstacles, Layer Origin Nutrition has seen steady growth since its inception and continues to expand its line of HMO prebiotics for gut health improvement.
Layer Origin Nutrition is proudly based in beautiful Ithaca, New York (about a four-hour drive from NYC and a five-and-a-half-hour drive from Montreal) at the Cornell Business & Technology Park.
Our facility includes offices, a research lab, a production line, and our warehouse. Ithaca is nestled in the Finger Lakes region of central New York, It's a wonderful place described as "10 square miles surrounded by reality" because of its breathtaking outdoor spaces and bohemian vibes.
Our Ivy League trained scientists are constantly poring over the latest research and have the training to correctly interpret the data. They're taking the key findings and formulating unique products that can help you quickly progress in your health journey. We understand that there are layers to your well being including exercise, nutrition, and mental health. We believe strategic supplementation is also one of those layers and we know that so much of our health originates in the gut. Our chief scientist was also deeply inspired by the foundational work of Dr. Peter Layer at The Mayo Clinic.
We own 400 acres of organic farmland in central New York allowing us to source many of our ingredients from right here in our own backyard. Our chief scientist conducts research on-site in our lab and we manufacture, bottle, and label all of our products in our state-of-the-art FDA-registered plant, which is located just down the hall from our lab.
The world's largest line of pure Human Milk Oligosaccharide prebiotic supplements — designed to radically transform your health by rapidly modulating the bacteria in your gut microbiome.
We'd love to hear from you. Feel free to shoot us an email, give us a call, or join our community on social media.